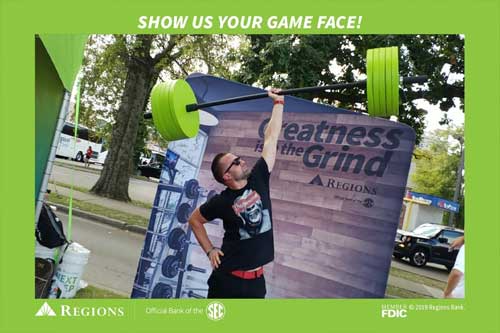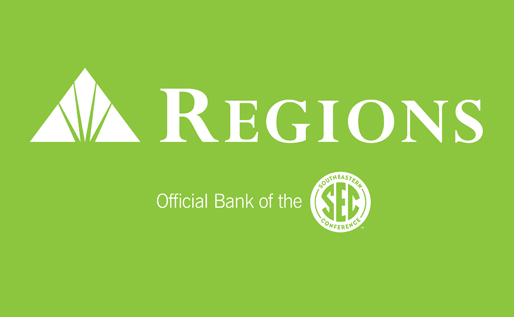 Regions Bank/2019 SEC Football Experiential Tour
WE ARE BACK!!! Regions Bank, the Official Bank of the Southeastern Conference is continuing their relationship with the conference and the ESPN SEC Network this fall as we tour & activate throughout SEC campuses. DDK Productions is onsite at all stops and produces both an activation each Saturday morning during the live broadcast of SEC Nation and at our large tent display footprint later in the day leading up to kickoff. The SEC Nation activation centers around photo opportunities with the Regions Big Bike & a sweepstakes prize trip to the 2019 SEC Championship Game in Atlanta. In addition, fans can enter their pick for the Grind Game of the Week for a chance to win a $500 Regions Visa Card. Regions also provides VIP hospitality experiences and an onsite opportunity to win a $50 Regions Debit Card on the spot. As kickoff time approaches, Regions capitalizes on its school partnerships and activates using our mobile, Regions Next Step tent experience. The footprint includes interactive games, photo opportunities with the SEC Replica Trophy and The Greatness in The Grind Barbell Display, sweepstakes and much more. Having a presence on these campuses each Saturday aligns with Regions' footprint of business throughout the South and provides a great opportunity to bring brand affinity to SEC fans in a fun, engaging way. We hope to see you soon at one of our tour stops soon!
Activation Details & Executed Services
Full-scale event production of 20'X40' footprint at SEC Nation & 30'X70' at Next Step Tent Stops

Procure, negotiate and manage onsite emcees, brand ambassadors, fabrication of fan interactives, big bike management and activation, social-sharing photo application

Collaborate with ESPN on all planning and onsite elements

Liaison with school partners for all needs of the Next Step Tent Activation

Create all programming for fan interaction and emcee scripting at footprint
David Kean has been our preferred event management partner for the last five years, and I cannot say enough positive things about the experience. Along with the 12+ years of sports and entertainment industry experience he brings to the table, his work ethic and attention to detail are unparalleled. On a personal note, David is also one of the most thoughtful people I've ever known. Not only is he mindful about the events he manages and the fan experience, but he truly cares about each, individual person he works with. I am looking forward to working with David in this new capacity and am excited about future possibilities for DDK Productions.